"There was a sketch of a human being, our population was given, and planet three in the solar system sketch was displaced towards the human to indicate that's where we lived."

The Arecibo Observatory message was a message sent out by the members of Arecibo Observatory in November 16, 1974 to the globular star cluster M13[1] for a ceremony to mark the remodeling of the Arecibo radio telescope. The message consisted of 1679 binary digits (equivalent to nearly 205 bytes) transmitted at a frequency of 2380 MHz and modulated by shifting the frequency by 10 Hz, with a power of 1000 kWatt. The beam was extremely narrow (giving a power equivalent to 20 trillion Watts if it were omnidirectional) making it the strongest man-made signal ever sent. It was meant to be picked up by extraterrestrials so that they could find Earth and locate the source of the message.[2] The leader of the project was Frank Drake, who also set up Project Ozma in 1960.[2]
The message is still traveling through space as of today, and it is highly improbable that it has passed any stars with planets orbiting them. Even if it has passed an extrasolar planet, the odds are very slim that any intelligent, if that, organisms reside on the planet. And, by pushing it, it is even slimmer that the intelligent species has already advanced to picking up radio signals.[2] Since the destination, M13, is 25,000 light-years away from Earth, it will take 25,000 years for the signal to reach it.[3] The message was sent at about "a million times stronger than the typical TV transmission"[3]. It is stronger than the Sun's radio waves and could be recieved through technology similar to that of the radio telescopes of Earth.[3]
Interpretation
Edit
"We eventually learned that nobody could interpret all of the message; each scientist only could interpret the part relevant to their discipline."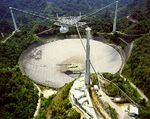 Actual reading
Edit
The signal was made of several parts.
Binary code
Edit
The message's binary code is printed below.[6]
00000010101010000000000001010000010100000001001000100010001001011001010101010101010100100100000000000000000000000000000000000001100000000000000000001101000000000000000000011010000000000000000001010100000000000000000011111000000000000000000000000000000001100001110001100001100010000000000000110010000110100011000110000110101111101111101111101111100000000000000000000000000100000000000000000100000000000000000000000000001000000000000000001111110000000000000111110000000000000000000000011000011000011100011000100000001000000000100001101000011000111001101011111011111011111011111000000000000000000000000001000000110000000001000000000001100000000000000010000011000000000011111100000110000001111100000000001100000000000001000000001000000001000001000000110000000100000001100001100000010000000000110001000011000000000000000110011000000000000011000100001100000000011000011000000100000001000000100000000100000100000001100000000100010000000011000000001000100000000010000000100000100000001000000010000000100000000000011000000000110000000011000000000100011101011000000000001000000010000000000000010000011111000000000000100001011101001011011000000100111001001111111011100001110000011011100000000010100000111011001000000101000001111110010000001010000011000000100000110110000000000000000000000000000000000011100000100000000000000111010100010101010101001110000000001010101000000000000000010100000000000000111110000000000000000111111111000000000000111000000011100000000011000000000001100000001101000000000101100000110011000000011001100001000101000001010001000010001001000100100010000000010001010001000000000000100001000010000000000001000000000100000000000000100101000000000001111001111101001111000

000000010101010000000000
00101000001010000000100
10001000100010010110010
10101010101010100100100
00000000000000000000000
00000000000011000000000
00000000001101000000000
00000000001101000000000
00000000010101000000000
00000000011111000000000
00000000000000000000000
11000011100011000011000
10000000000000110010000
11010001100011000011010
11111011111011111011111
00000000000000000000000
00010000000000000000010
00000000000000000000000
00001000000000000000001
11111000000000000011111
00000000000000000000000
11000011000011100011000
10000000100000000010000
11010000110001110011010
11111011111011111011111
00000000000000000000000
00010000001100000000010
00000000001100000000000
00001000001100000000001
11111000001100000011111
00000000001100000000000
00100000000100000000100
00010000001100000001000
00001100001100000010000
00000011000100001100000
00000000001100110000000
00000011000100001100000
00001100001100000010000
00010000001000000001000
00100000001100000000100
01000000001100000000100
01000000000100000001000
00100000001000000010000
00010000000000001100000
00001100000000110000000
00100011101011000000000
00100000001000000000000
00100000111110000000000
00100001011101001011011
00000010011100100111111
10111000011100000110111
00000000010100000111011
00100000010100000111111
00100000010100000110000
00100000110110000000000
00000000000000000000000
00111000001000000000000
00111010100010101010101
00111000000000101010100
00000000000000101000000
00000000111110000000000
00000011111111100000000
00001110000000111000000
00011000000000001100000
00110100000000010110000
01100110000000110011000
01000101000001010001000
01000100100010010001000
00000100010100010000000
00000100001000010000000
00000100000000010000000
00000001001010000000000
011110011111010011110001

References
Edit